SDGs in Ghana, the role of Statistics and Data Science.
Tue 12 Jan 2021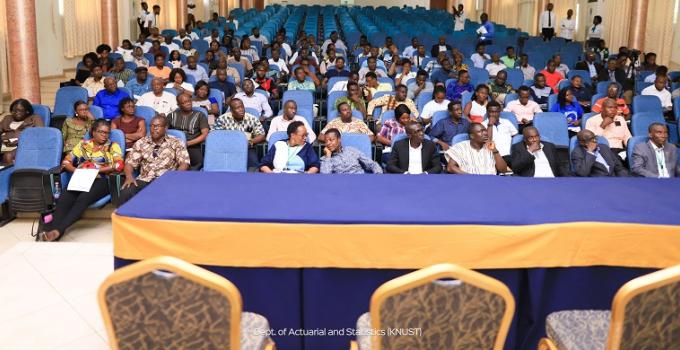 The Department of Statistics and Actuarial Science, KNUST in collaboration with KNUST-Laboratory for Interdisciplinary Statistical Analysis (KNUST-LISA), Department of Mathematics and Statistics, Kumasi Technical University and International Biometric Society (IBS), Group Ghana organised a one-day conference on December 19, 2019. The conference was themed: Sustainable Development Goals (SDGs) in Ghana, the role of Statistics and Data Science.
The conference brought together all Departments of Statistics and Data Science in tertiary institutions namely: University of Ghana (UG), Accra, University of Cape Coast (UCC), Cape Coast, University of Energy and Natural Resources (UENR), Sunyani, University of Development Studies (UDS), Navrongo, University of Health and Allied Sciences (UHAS), Ho, University of Mines and Technology (UMaT), Tarkwa, Wisconsin International University College, Accra and Garden City University College, Kumasi. Technical Universities present were Accra Technical University (ATU), Kumasi Technical University (KsTU), Tamale Technical University (TTU), Cape Coast Technical University (CCTU), Koforidua Technical University (KTU), Sunyani Technical University (STU) and Bolgatanga Polytechnic. Ghana Statistical Association (GSA), Ghana Statistical Services (GSS), Ghana Education Services (GES), Ghana Association of Statistics Students, science Students Association (SCISA), KNUST, Graduate Students Association of Ghana (GRASAG) were also represented at the conference to brainstorm and chart a new path where Statistics and Data Science would be relevant in realizing the SDGs in Ghana.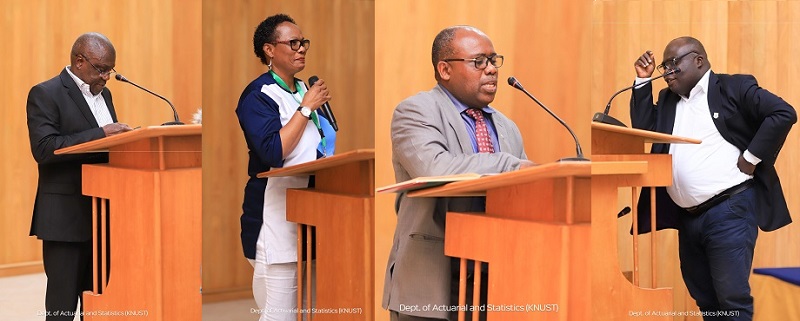 The chairman for the occasion was Prof. S.K. Nokoe from the Catholic University College of Ghana, Sunyani.  The plenary session involved group discussions. Participants were divided into two groups (A and B). Group A focused on curricular related issues whereas Group B looked at collaborative research and statistical consulting.
Among other things that came up during the discussion by Group A are as follow:
Statistics and data science training in Ghana beyond 2020.

Statistics education in lean resourced areas.

Collaborative research and statistical consulting.

Harnessing our manpower resources for collective growth.
Statistics and data science training in Ghana beyond 2020
Participants specifically deliberated on data science research in the past when data was small and well structured – normally distributed as against the present big and unstructured data. Hence they suggested the need to introduce data science, machine learning and artificial intelligence. Indeed, for a statistician to stay relevant in this fast-changing world of data science, participants made the following contributions:
Integration of statistical models in data science.

Addition of matching or pattern analysis, artificial intelligence and machine learning to the training of our students.

Develop a four-year curriculum for our students with the first two years dealing with the theoretical issues and the last two years spent on the introduction of data science.

Upgrade of facilities in our training institutions. For example, the creation of machine learning laboratories, high powered computer laboratories, etc.

Mathematics also plays a key role in this evolution of data science and thus more emphasis should be given to the teaching mathematics in our training schools from the basic level to our universities.

Modernization of our current programs. For instance, the introduction of computational statistics etc.

Equipping our libraries with resources
Statistics Education in Ghana.
Creating awareness in high schools.

Develop simple applications to solve simple problems in order to generate interest and "love" for statistics and data science in general.

Making statistics more friendly and interesting.

Involving our students on competence-based training by solving practical problems.
Building the capacity of our lecturers.

Addition of statistical communication to our curriculum.

Engaging all institutions on one common project – Problem-solving projects.

Participants were encouraged institutions to collaborate and share ideas.
The following issues were also raised by Group B in their quest to realize SDGs in context of collaborative research and statistical consulting:
Collaborative research and statistical consulting
Bring in all stakeholders to handle the issue holistically.

Statistics should provide advice to those in research areas.

Statisticians must collaborate with those in other disciplines.

There should be a partnership between two or more academic problems).

Individual attachment should be seen as service-learning – where we report to the community and the institution.

faculties.

Statisticians, Mathematicians and Computer Scientists are to bring relevant portions of their research program and link it with the SDGs.

Other areas are needed since we have limited resources in all fields.

Making sense out of the data using the relevant tools and software especially Python. Not every data can be analysed by only one software.

We should make ourselves open to the world by creating avenues at the local levels – we should collaborate with the Regional Statistical Service.

Mind-sets of politicians, businesses and the entire populace should be changed as they don't see the value of Statistical Services

Digitization has brought to light a lot of data but most institutions do not make these data accessible.

We should be proactive and contact all institutions: actively involved in defining and determining our own destinies.

Be actively involved in writing research proposals and finding consultancies.

How do we identify people with expertise so we can collaborate?

Create centre for excellence and Collaborative research where we must involve government policies.

We are looking at how statistics can incorporate data science. We should have a niche research area -  a statistician who is into medical statistics, environmental science, business field…

We should do joint publications

We should find ways to help our students in the area of machine learning, artificial intelligence

The fear of plagiarism should not stop us from collaborating
Harnessing our manpower resources for collective growth
Identify the resources available at our end and inform institutions what we can offer, what we need from them, what they lack and what we can do for them.

GSA should certify statisticians so individuals and organizations can consult.

We should advocate for improvement in resources in the area of SDGs.

Project works of students should involve problem-solving (existing real