A visit to Prudential Life Insurance Ghana
Wed 13 Jan 2021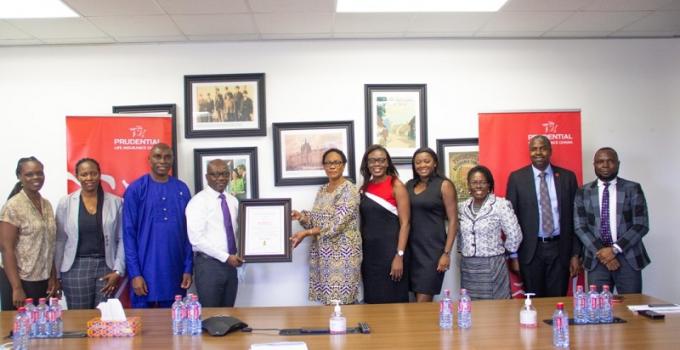 The Department of Statistics and Actuarial Science, KNSUT on the 23 day of September 2020 paid a visit to the Prudential Life Insurance Ghana to present a certificate of appreciation to the company. A two-person delegation in the person of Prof. A.O. Adebanji (Head of Department) and Mr. V.K. Dedu (Patron of the Actuarial Science Students Association) met with the CEO and nine other officers of the Company.
Prudential Life Insurance Ghana has been one of the strong partners of the Department of Statistics and Actuarial Science in pursuance of quality education in Actuarial Science to students by the Department. The Department has an MOU with Prudential Life Insurance since 2014 detailing an annual award to our (Department) top-five (5) graduating students with a cash price of $500 plus a support scheme that enables the selected successful top-five student to write all the Actuarial professional examinations. In addition to these offers, Prudential Life Insurance Ghana allows one of the top-five to be trained at their Head Office to have practical skills pertaining to the insurance industry.
The Head of Department Prof. Adebanji  presented a Certificate of Appreciation and some assorted souvenirs secured from the office of the Provost of College of Science to the CEO and gave a Thank You Message. The CEO in response expressed his delight of the visit by the delegation adding that KNUST is the first to show appreciation for similar offers they have given. The delegation also proposed other forms of engagement/collaboration with Prudential Lite Insurance Ghana aimed at further deepening the training of our students.